This blog is an adapted extract from our latest report Capturing the Market: Cannabis regulation in Canada.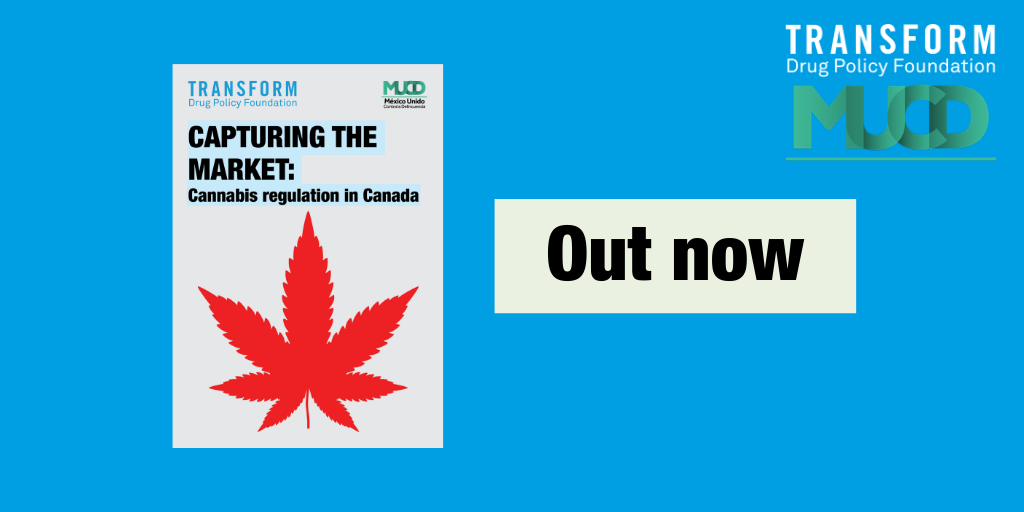 The recent cannabis investment bubble may have comprehensively burst, but the 'Green Rush' that followed legalisation in Canada left a legacy of corporate giants poised to dominate global markets in the future. Corporate capture not only leads to monopolies, which are rarely good for consumers or small producers, but also creates undue political influence. As the history of tobacco and alcohol have shown, the bigger the producer the more sway they hold over policymakers — and that power is invariably used in the interests of profit, rather than public welfare. Here, we look at how large corporates captured the Canadian market and what lessons can be learned going forward.
Failures to incorporate small producers
It was always likely that large producers would dominate the new, legal market in Canada but there were hopes that the introduction of 'micro-cultivation' licences would help open the market to smaller producers. This has not been the case. It was announced that anyone applying for a cultivation licence had to have a production facility already in place. This forced those unable to risk initial investment costs out of the race and prioritised companies with greater financial resources.
Impact on international development
While non-medical cannabis use remains prohibited in most countries, Canadian producers have been able to use the growing market in medical cannabis as a springboard for international expansion. Canopy Growth already has established a medical presence in Australia, Europe, Africa and South America, largely through its subsidiary, Spectrum Therapeutics, while Cronos Group similarly operates across five continents.
Establishing this presence enables companies to move quickly to take advantage of wider legalisation. For instance, in early 2020, French and Canadian companies clashed ahead of a French trial of medical cannabis. In Mexico, which is in the final stages of legally regulating cannabis for non-medical consumption, Aurora Cannabis acquired the first Mexican company to obtain a medical cannabis distribution licence. In June 2019, Canopy announced a $3.4 billion deal to purchase US-based cannabis company Acreage, with the caveat that if federal legalisation of non-medical cannabis does not occur within 7 ½ years, the deal is voided. Canopy reportedly has at least two other similar deals with US companies.
The actions of Canadian companies in South America have drawn particular criticism. The Colombian Association of Cannabis Industries has estimated that local medicinal cannabis companies in Colombia are nearly 75% foreign-owned. Over $600 million was invested in the Colombian market between January 2018 and June 2019, predominantly by Canadian companies. In 2018, Canopy Growth purchased Colombian company Spectrum Cannabis for $60 million, which it has since rebranded into its international medical subsidiary, Spectrum Therapeutics. Through Spectrum, it is licensed to produce cannabis over 13.6 million square feet in Colombia. Meanwhile, Cronos Group has established a joint venture with an affiliate of Colombia's leading agricultural services provider to 'develop, cultivate, manufacture and export cannabis-based medicinal and consumer products for the Latin American and global markets'. Elsewhere in South America, Aurora Cannabis, which has investment in 25 countries, purchased 'ICC Labs' in 2018, obtaining over 70% market share in the Uruguayan market in the process.
Cross-sector investment
Legally available cannabis presents something of a threat to alcohol and tobacco companies, but also an opportunity to expand further. As the CEO of one major cannabis company warned alcohol companies 'If you don't get a piece of cannabis, cannabis is going to take a piece of you.' Legacy players in the alcohol and tobacco world have certainly responded.
Altria, one of the world's largest tobacco producers, has invested over a billion dollars into Cronos Group, in which it now owns a 45% stake. Constellation Brands (the third largest market share holder of all beer companies) owns a 38% share in Canopy Growth and has four out of seven seats on the board, while AB inBev and Molson Coors (two of the largest alcohol companies in the world) have joint partnerships with Canadian cannabis companies Tilray and HEXO respectively, to create drinkable cannabis products.
Investment in Canadian cannabis is now mainstream — with big shareholders in Canopy Growth including Morgan Stanley and the Bank of Montreal. Major shareholders in Aurora Cannabis include JP Morgan and the Norges Bank's Government Pension Fund Global, which invests revenue from Norway's oil and gas resources. There has also been the development of cannabis exchange-traded funds (ETFs), like Alternative Harvest ETF, which invest heavily in Canadian cannabis companies across the board — Alternative Harvest owning stakes in Cronos, Aurora, Canopy and many others.
Shaping regulation
We know that powerful corporates can shape policy, so it is vitally important that government, not commercial entities, remain in control, and that the legal focus is public wellbeing and social justice, not simply the maximisation of profit. Recent experiences in Canada have provided a lesson in over-optimism for investors, but maybe for reformers too. We now know how quickly powerful conglomerates can emerge in legal markets, and need to ensure we promote policies that prioritise public health and social justice.
Author: Harvey Slade, Research and Policy Officer at Transform