This blog is an edited extract from 'Cannabis regulation: Lessons from the illicit tobacco trade', a new report, written by Benoit Gomis, as a collaborative project between the International Drug Policy Consortium, Transform Drug Policy Foundation, the Trans National Institute, the Washington Office on Latin America, Health Poverty Action, and the Global Drug Policy Observatory. You can read the full paper here.
Watch the publication launch with Ann Fordham and Benoit Gomis.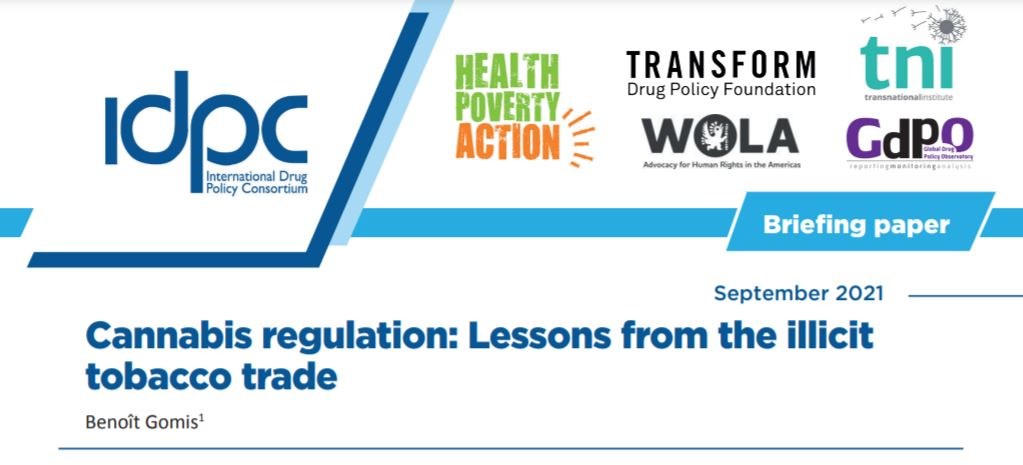 Since 2013, a number of countries and local jurisdictions around the world have legalised and regulated their cannabis supply chains for non-medical use. Lawmakers, regulators, researchers, and advocates continue to design, enact, implement and revise regulatory frameworks for medical and recreational cannabis. And yet lessons from regulating other psychoactive substances, including tobacco products, are not always fully considered.
The experience of the illicit tobacco trade is particularly relevant for cannabis regulation. There are of course significant differences between the two substances. Cigarettes kill over 7 million people worldwide annually, and between one half and two thirds of their users. Non-combustible cannabis products, in contrast, present very low levels of harm, and some medical benefits. Cannabis and tobacco distribution also differ in nature. The global tobacco market is heavily concentrated. China, Brazil, and India accounted for 63% of all tobacco leaf cultivation in 2019 as part of a global cigarette market dominated by a small number of companies. China National Tobacco Corporation (CNTC) accounted for 43.9% of global cigarette retail volume in 2019 – the large majority of it is destined for domestic consumption, though the company has been developing a global expansion strategy. Beyond CNTC, Philip Morris International (PMI) (13.4% of global retail volume in 2019), British American Tobacco (BAT) (12.7%), Japan Tobacco International (JTI) (9.1%) and Imperial Brands (4.2%) accounted for 70% of the rest of the world's market share in 2019. In contrast, cannabis can be grown indoors and therefore almost anywhere across the world. The illicit cannabis market has been characterised by a high number of small-scale growers, including for personal consumption and local distribution. Moreover, cigarettes are light, compact, distributed in small packs, and easy to smuggle – in part because they can be disguised as legal products through false invoicing and/or when hidden within a shipment containing other commodities. One 20-foot shipping container alone can hold almost five million cigarettes.
Yet tobacco and cannabis are both plants with psychoactive substances, with some similar characteristics including with regard to production (cultivation and processing) and consumption (tobacco and cannabis products can be smoked, consumed with a vaporiser, or used orally), and to some extent converging industries.
In any jurisdiction that regulates a psychoactive drug like tobacco or cannabis, a portion of it will remain on the illicit market. In Canada for instance, approximately half of the total cannabis market was illicit in the third quarter of 2020, almost two years after cannabis legalisation was introduced, according to expenditure data. Across the 10 Canadian provinces, legal recreational cannabis shares varied from 13% to 70% in September 2019. An estimated 10-12% of cigarettes consumed worldwide are illicit – this includes both illicit production and distribution.
Given those similarities and while the legal cannabis industry is still nascent, now is the time to explore lessons from tobacco control in order to inform cannabis regime design decisions. By tackling these questions early, governments are more likely to be able to prevent the emergence of an industry capable of preventing, deflecting and undermining policies centred on public health, social justice, inclusive and equitable trade, and human rights. The tobacco experience is arguably not a reason to refrain from regulating cannabis at all. Rather it serves as a cautionary tale of the difficulties to restrain private actors once they have become too powerful. The history of the illicit tobacco trade, and the role of the tobacco industry in both driving it and shaping responses to it, is particularly relevant in that regard. It will be the focus of this report.
Transnational Tobacco companies have been complicit and directly involved in the illicit tobacco trade through various tactics. In parallel, they have managed to shape policy responses to to the illicit trade through overt and covert engagement with the media, academia, law enforcement, international governmental organisations, international treaties, and front groups. As the legal cannabis industry continues to expand, and new jurisdictions review regulatory frameworks for cannabis supply chains, the briefing paper offers an overview of industry strategies and practices to watch out for on illicit trade issues.

Going forwards, the report's conclusion offers ten key lessons from these experiences for the emerging legal cannabis industry


1. Consider home-growing and other non-profit models (1)
These models would serve as useful alternatives to commercial frameworks, which in the case of tobacco have led to harmful effects and provided economic incentives for smuggling.
2. Ensure that policies and enforcement practices centre on public health social justice, human rights, and equitable and inclusive trade
Regulatory frameworks should notably empower communities affected by cannabis prohibition, and feature strong environmental standards, labour protection, and inclusive and democratic models. Importantly, requirements on preventing the illicit trade that are too rigid or expensive may effectively limit or exclude participation from smaller manufacturers or farming cooperatives.

3. Fund independent academic research and analysis on the illicit cannabis trade in regulated economies
Though the illicit cannabis trade in a regulated economy may look different from the illicit tobacco trade, independent research on the topic will prove essential in informing future policies. Methodologies used to estimate the size of illicit cigarette markets (2) and monitor tobacco industry activity (3) could prove particularly useful in that regard.
4. Establish comprehensive and adequately funded monitoring mechanisms

Finding innovative ways to monitor the illicit cannabis trade beyond traditional law enforcement and interdiction is another important point of consideration for cannabis regulation. Independent data collection and analysis throughout supply chains, for instance, could help mitigate the illicit trade. Cannabis regulation should ensure that all cannabis produced by legal manufacturers is accounted for. As cannabis manufacturers and distributors begin their overseas expansion, it is crucial to ensure that distribution data is accurately and independently verified, and that amounts sold are commensurate to the size of local markets and legal exports. Releasing comprehensive, free, and easily accessible data covering the entirety of cannabis supply chains would be a necessary first step.
5. Conduct frequent policy evaluations

Frequently reviewing regulatory frameworks and revising them accordingly would help ensure that harms related to health, justice, and trade along cannabis supply chains are effectively minimised. Metrics could include morbidity, mortality, and mental health impacts of regulation (health), the participation of civil society groups and communities affected by cannabis prohibition in the design and implementation of regulation (justice), and income and working conditions of all workers including farmers (trade).(4) Objective data, lessons learnt, market evolutions, and feedback from affected communities and civil society should form the basis of those reviews.(5)

6. Ensure that fair trade principles are at the core of regulation, as international trade develops

As the international trade in legal cannabis products continues to grow, regulators should ensure that fair trade principles are at the forefront of regional and international frameworks, and that the illicit trade is not used as an industry tactic. This could include banning trade through Free Trade Zones (6) and of duty-free cannabis products, while carving out cannabis, alcohol, and tobacco products from investor-state dispute settlement mechanisms or repealing them altogether should also be considered.(7)

7. Develop international guidance on the legal cannabis trade

The WHO FCTC and the Protocol to Eliminate Illicit Trade in Tobacco Products offer important lessons for future international guidelines on the international legal cannabis trade. Limitations include extensive efforts by the tobacco industry to undermine and coopt their development, negotiation, drafting, and implementation.(8) Even in the absence of an international treaty on legal cannabis, UN institutions (e.g., WHO, the United Nations Development Programme and the United Nations Office on Drugs and Crime) should play a greater role in providing guidelines on cannabis regulation, including on how to mitigate the illicit cannabis trade while guarding against cannabis industry interference in policy making.(9)

8. Prevent the emergence of a powerful cannabis industry

Links between transnational tobacco companies and the cannabis industry already exist. Regulators could notably prohibit such links and prevent the increasing concentration and potential monopolisation of the cannabis industry – encouraging instead small, responsible businesses, if a commercial model is selected. This could for instance be achieved by capping the market share of any cannabis company at 10 or 15%.

9. Monitor and take action against cannabis industry interference into policy making
Transnational tobacco corporations have managed to interfere with policy making via academia, the media, law enforcement, international governmental organisations, and other third parties. Given vested commercial interests potentially at odds with the social good, avoiding a similar situation with cannabis from expanding further could take the form of:

Academic journals preventing studies on cannabis funded by the cannabis industry

Universities rejecting cannabis industry research funding

Law enforcement and customs agencies refusing to partner with cannabis company representatives on how to tackle the illicit cannabis trade

Preventing cannabis industry representatives from shaping national regulation beyond public consultations and ensuring transparency in all interactions between the cannabis industry and government officials

Requiring government officials involved in cannabis regulation to divest from any related financial interests

Scrutinising and shedding light on cannabis industry donations to media and think tank organisations

Creating an independent office to oversee and alert of potential conflicts of interest and interference in policy making by the cannabis industry.
10. Put in place effective track-and-trace/ seed-to-sale systems

Learning from the current challenges in the implementation of the FCTC Protocol on the illicit trade in that regard, putting in place effective, independent, comprehensive, and transparent track-and-trace/seed-to-sale regimes, including audits and inspections, fully independent of the cannabis industry, could prove significant. Legal supply chains for cannabis products around the world continue to expand; (10) product innovation and commercialisation (e.g., pre-rolled cannabis cigarettes) is developing further; legal trade is growing; and the cannabis industry is becoming increasingly concentrated.(11) In that context, one can certainly envisage a situation in which inadequate, industry-controlled track-and-trace systems would fail to fully control supply chains across borders. More research is notably needed on seed-to-sales solutions currently available in the United States and Canada, and on how regulations could be improved to ensure that tracking and tracing systems are effective, comprehensive, government-controlled, independent from the cannabis industry, and primarily focus on preventing diversion to the illicit trade, instead of serving as a tool to optimise supply chain productivity and efficiency.(12) Policy innovation is, however, required to ensure that these requirements do not represent additional barriers to entry for traditional growers, long marginalised and stigmatised by drug control, in favour of large, multinational corporations.
References:
1. See for instance on tobacco: Callard, C., Thompson, D. & Collishaw, N. (2005), 'Transforming the tobacco market: why the supply of cigarettes should be transferred from for-profit corporations to non-profit enterprises with a public health mandate', Tobacco Control, 14: 278-283, http://dx.doi.org/10.1136/tc.2005.011353 ; Cohen, J. & Lee, K. (2019), 'State versus private ownership of tobacco companies', British Medical Journal, 365: 14056, https://doi-org.myaccess.library.utoronto.ca/10.1136/bmj.l4056 ; Gilmore, A.B., Fooks, G. & McKee, M. (2012), 'A review of the impacts of tobacco industry privatisation: Implications for policy', Global Public Health, 6(6): 621-642, https://dx.doi.org/10.1080%2F17441692.2011.595727 ; and on cannabis: Decorte, T. (2018), Regulating cannabis: A detailed scenario for a non-profit cannabis market, Bloomington, IN: Archway Publishing; Wilkins, C. (2018), 'A "not-for-profit" regulatory model for legal recreational cannabis: Insights from the regulation of gaming machine gambling in New Zealand', International Journal of Drug Policy, 53: 115-122, https://doi.org/10.1016/j.drugpo.2017.12.002 ; Caulkins, J.P,, Kilmer, B., Kleiman, M.A.R., MacCoun, R.J., Midgette, G., Oglesby, P., Pacula, R.L. & Reuter, P. (2015), 'Options and Issues Regarding Marijuana Legalization', RAND Corporation, https://www.rand.org/pubs/perspectives/PE149.html ; Transform (2016), How to regulate cannabis: A practical guide, https://transformdrugs.org/publications/how-to-regulate-cannabis-a-practical-guide

2. For instance: Stoklosa, M., Paraje, G. & Blecher, E. (2020), A Toolkit on Measuring Illicit Trade in Tobacco Products (Chicago: Tobacconomics), https://tobacconomics.org/research/a-toolkit-on-measuring-illicit-trade-in-tobacco-products/ ; 'Measuring the size of the illicit tobacco market', in National Research Council (2015), op. cit., pp. 77-110
3. STOP (2021), 'A single source for information on tobacco industry behavior', Resources, accessed 27 January 2021, https://exposetobacco.org/resources/ ; Global Tobacco Control Research Programme at Simon Fraser University (2021), accessed 27 January 2021, http://www.sfu.ca/globaltobaccocontrol.html
4. See for instance: International Expert Group on Drug Policy Metrics (2018), Aligning Agendas: Drugs, Sustainable Development, and the Drive for Policy Coherence (New York: International Peace Institute), https://www.ipinst.org/2018/02/drugs-sustainable-development-and-the-drive-for-policy-coherence
5. International Drug Policy Consortium (2020), Principles for the responsible legal regulation of cannabis, https://idpc.net/publications/2020/09/principles-for-the-responsible-legal-regulation-of-cannabis
6. International Drug Policy Consortium (2020), Principles for the responsible legal regulation of cannabis, https://idpc.net/publications/2020/09/principles-for-the-responsible-legal-regulation-of-cannabis
7. See for instance: Hawkins, B. & Holden, C. (2016), 'A corporate veto on health policy? Global Constitutionalism and Investor–State Dispute Settlement', Journal of Health Politics, Policy and Law, 41(5): 969-995, https://doi.org/10.1215/03616878-3632203 ; Hawkins, B., Holden, C. & Mackinder, S. (2017), 'A multi-level, multi-jurisdictional strategy: Transnational tobacco companies' attempts to obstruct tobacco packaging restrictions', Global Public Health, 14: 570-583, https://doi.org/10.1080/17441692.2018.1446997 ; Provost, C. & Kennard, M. (2015), 'The obscure legal system that lets corporations sue countries', The Guardian, https://www.theguardian.com/business/2015/jun/10/obscure-legal-system-lets-corportations-sue-states-ttip-icsid ; Olivet, C. & Villareal, A. (2016), 'Who really won the legal battle between Philip Morris & Uruguay?', The Guardian, https://www.theguardian.com/global-development/2016/jul/28/who-really-won-legal-battle-philip-morris-uruguay-cigarette-adverts

8. Bialous, S. (2014), 'The tobacco industry and the illicit trade in tobacco products', WHO FCTC Secretariat, https://www.who.int/fctc/publications/The_TI_and_the_Illicit_Trade_in_Tobacco_Products.pdf
9. The WHO has notably published relevant guidance on alcohol (despite the absence of a global treaty) which could serve as a model for similar documents on cannabis. See for example: World Health Organization (2010), Strategies to reduce the harmful use of alcohol: Draft global strategy – Report by the Secretariat, A63/13, https://apps.who.int/gb/ebwha/pdf_files/WHA63/A63_13-en.pdf
10. See for instance: Hawryluk, M. (2020), 'US cannabis might top shelf, but Canada is the export king – For now', Colorado Public Radio News, 5 January 2020, https://www.cpr.org/2020/01/05/us-cannabis-might-be-top-shelf-but-canada-is-the-export-king-for-now/ ; Hasse, J. (15 August 2019), 'US company completes first ever commercial export of retail CBD products to Mexico', Benzinga, https://www.benzinga.com/markets/cannabis/19/08/14270769/us-company-completes-first-ever-commercial-export-of-retail-cbd-productsto-mexico ; Contini, K. & Owens, I. (2020), What you need to know before exporting legal cannabis products', Global Cannabis Compliance Blog, Baker McKenzie, https://globalcannabiscompliance.bakermckenzie.com/2020/07/31/whatyou-need-to-know-before-importing-exporting-legal-cannabis-products/
11. PwC (undated), 'Chapter 5 – M&A: High yields drive a surge in transactions', PwC Canada's cannabis series, https://www.pwc.com/ca/en/industries/cannabis/pwc-cannabis-serieschapter-5-high-yields-drive-a-surge-in-transactions.html ; Brochstein, A. (2020), 'Look for cannabis industry mergers and acquisitions to take off in 2021', New Cannabis Ventures, https://www.newcannabisventures.com/look-for-cannabisindustry-mergers-and-acquisitions-to-take-off-in-2021/ ; For an overview of the global expansion of Canadian cannabis companies, see: 'Capturing the Market', Transform Drug Policy Foundation & México Unido Contra La Delincuencia (2020), pp. 43-44 https://transformdrugs.org/assets/files/PDFs/capturing-the-market-canada-fulltext-2020.pdf

12. See for instance: Israel, S. (2020), 'Metrc sees new seed-to-sale tracking markets, welcomes cannabis industry's 'constructive criticism', Marijuana Business Daily, https://mjbizdaily.com/metrc-sees-sale-tracking-opportunities-in-new-cannabis-markets/ ; Pallardy, C. (2020), 'How Metrc Dominates the Cannabis Regulatory Software Market' New Cannabis Ventures, https://www.newcannabisventures. com/how-metrc-dominates-the-cannabis-regulatory-software-market/ ; GrowerIQ (2021), accessed 19 February 2021, https://groweriq.ca