Transform recently partnered with the University of Bristol and the University of the West of England to host a series of events showcasing the diverse range of work being done around drugs and drug policy in the city.
On a wintery Thursday evening we bought together academics, service providers, practitioners, policy makers and political party groups in Colston Hall to promote conversation on drugs and drug policy and to demonstrate the amount of work that is already being achieved in the city. The event comprised of an exhibition, followed by a talk from the former Chair of the Advisory Council on the Misuse of Drugs, Professor David Nutt, and a panel debate including Professor Nutt, the deputy mayor of Bristol, Cllr Asher Craig, the CEO of Bristol Drugs Project Maggie Telfer, and the Anyone's Child Activist Cara Lavan.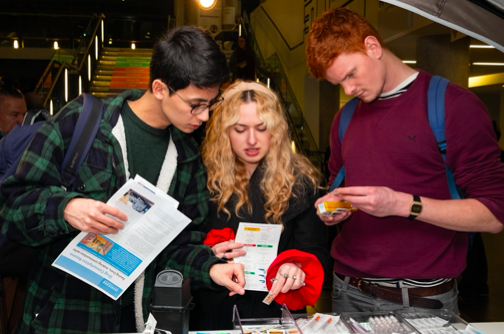 We opened the doors to the people of Bristol and invited them to explore our exhibition of over twenty five stalls, presenting on a range of topics from the morality of drug use, to research on the EU regulations of e-cigarettes and their uptake by young people, as well as Transform's own 'Regulate This' wheel of fortune - which talked audiences through how Transform proposes different drugs should be legally regulated. With a high turnout from the public, the rooms were packed and abuzz with interesting conversations and debates.
The centre point of the exhibition was the first ever mock-up Safer Drug Consumption Room (SDCR) to be displayed in the UK. SDCRs are supervised spaces where people are allowed to inject their own drugs. Currently there are over 150 around the world, and to date there have been no drug-related deaths in any of them. At the moment however, no SDCRs are operating in the UK; this is due mainly to the Government continuing to refuse to allow a pilot. So, with the help from Bristol Drugs Project, Transform created a mock-up to give the public an opportunity to see what one would look like. With 4,265 people having died from an overdose in the UK in 2018, Safer Drug Consumptions Rooms are an urgent and effective way to help prevent more drug-related deaths.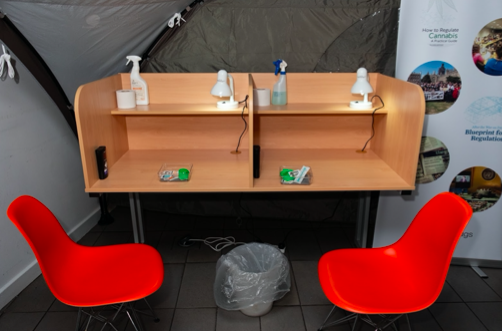 The presence of the mock-up prompted discussion in the debate around whether a fully-operating SDCR could be put in place in Bristol, where death rates from drug misuse were 60 per cent higher than the national average in 2018. Cllr Asher Craig said she was personally in favour of one being set up, though emphasised that the decision had to be made by the city. Bristol City Council are currently in the process of drafting their city's Alcohol and Drug Strategy, and Cllr Craig called on Transform to play a key role in making the strategy work. We see this as a really positive indication that, having already taken some important steps, the local authority is ready to take an even more progressive approach to drug policy in order to keep its people safe. We're delighted that our event was able to put a spotlight on the important work already being done and highlighted how much potential cities such as Bristol have: potential we are always ready to support.
To learn more about Safer Drug Consumption Rooms, take a look at our briefing.
Ester Kincova, Research and Policy Officer
17/02/2020