New York and Massachusetts: The Social Justice Potential of Legal Cannabis Regulation
As the momentum for regulation of cannabis gathers pace internationally, with almost half a billion people living in legal jurisdictions, the challenge for reformers has shifted from demonstrating that workable frameworks are possible, to learning from best practice and advocating for a model most likely to achieve the desired aims of ensuring social justice and protecting public health.
At Transform we believe that a principal aim of legal cannabis regulation should be actively seeking to repair historic harms associated with prohibition, in particular the disproportionate criminalisation and economic exclusion of people of colour. This requires involvement of historically impacted communities throughout the process of designing legislation and regulations so that social and racial justice is specifically built in.
Since Colorado and Washington legally regulated cannabis for recreational use in 2012, 16 more states have followed suit which puts the US at the forefront of the global shift toward legal regulation. We were extremely lucky to be in New York on the one-year anniversary of when the legislation passed to legalise cannabis for non-medical use and expunge associated criminal records – legislation which aims to be the most equitable in the United States. Neighbouring state Massachusetts, a century after becoming the first state to criminalise recreational cannabis, legalised it in 2016.
Both states put social justice at the heart of their reforms which is why it was such a privilege, alongside our Blaksox allies, to meet and learn from the very activists and legislators who made the reforms happen, actively building in both social justice provisions and business opportunities for those most harmed by the devastating impact of prohibition.
Legal grey area
One of the first things which struck me when we arrived in New York City was the prevalence of colourful trucks and some stores selling cannabis throughout Manhattan, emblazoned with pro-cannabis motifs and cartoons. The stores' advertisements and branding suggested they were selling for medical use but a family member visiting from another state was able to purchase whatever she wanted, no medical card needed. These trucks were apparently selling cannabis for a "donation" with little appetite for enforcement from the authorities. Some cease-and-desist letters have, however, been issued. This is the consequence of the state being stuck in a legal limbo, where legislation has been passed to legalise cannabis, but the regulations haven't been finalised and the licenses haven't yet been issued. There are certainly lessons to be learned here about the sequencing of the roll-out of reforms.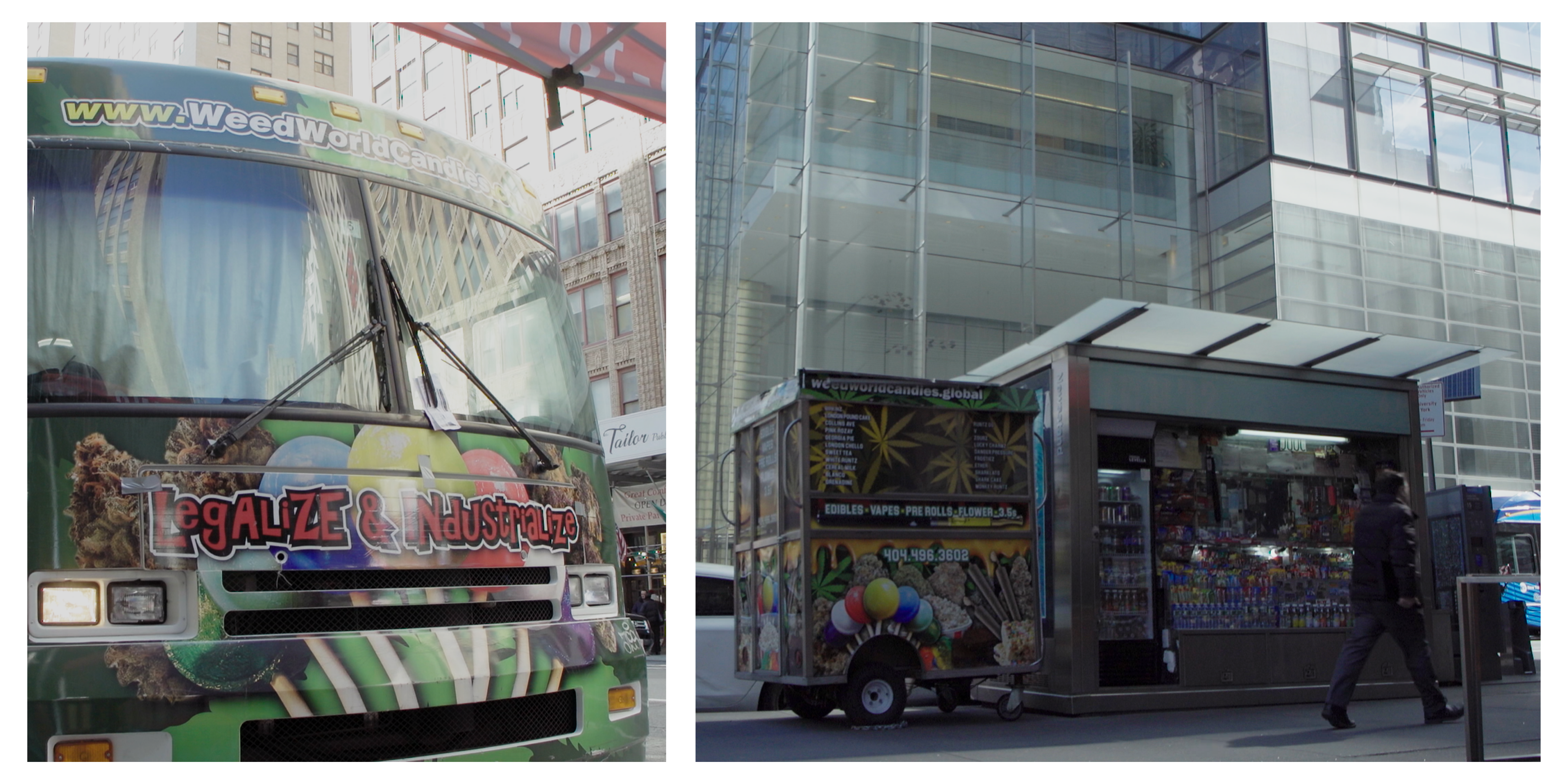 Finding the right balance
As outlined in our newly updated 'How to Regulate Cannabis' guide, finding the right balance between a range of factors and interests is a key challenge when developing and implementing cannabis regulation. This was apparent throughout the many discussions we had with the people we met during our time there. These included legislators, activists, grassroots campaigners, and people from the legacy market - the term now used to describe what would have previously been the illegal market.
Perhaps the most important balancing act, which has been a significant factor in how the approaches of the other jurisdictions to regulate cannabis have been evaluated, is how free or heavily regulated the legal market becomes. It is our view at Transform that free-market commercialisation is undesirable because most profit-making companies' main motivation – rather like the illegal market's – is to drive-up consumption in order to maximise profits. This corporate capture can and often does impede the significant health and social justice benefits of legal regulation.
Even among those we met who were involved in the legacy market, there was a broad range of perspectives, with those who passionately believed in spreading the economic opportunities as broadly as possible among people disproportionately affected by prohibition and those whose focus seemed more on securing the biggest piece of the pie for themselves or their own part of the community.
Whilst people becoming very wealthy from the profits of growing, selling and distributing cannabis doesn't sit easily with me, it's hard not to empathise with the desire of people whose economic opportunities have been stifled by structural racism, in a city seen by many as the global centre of capitalism and opportunity, to transform their lives in a way that wouldn't be possible in other parts of the economy.
"New York is the epicentre of culture in the world and it's all about money here," we were told by one former political advisor who was instrumental in the passing of the legislation. "Whoever takes hold of the market here can shape the cannabis industry internationally. We can try to control who gets these opportunities and ensure that it's Black and brown people who are shut out of other industries."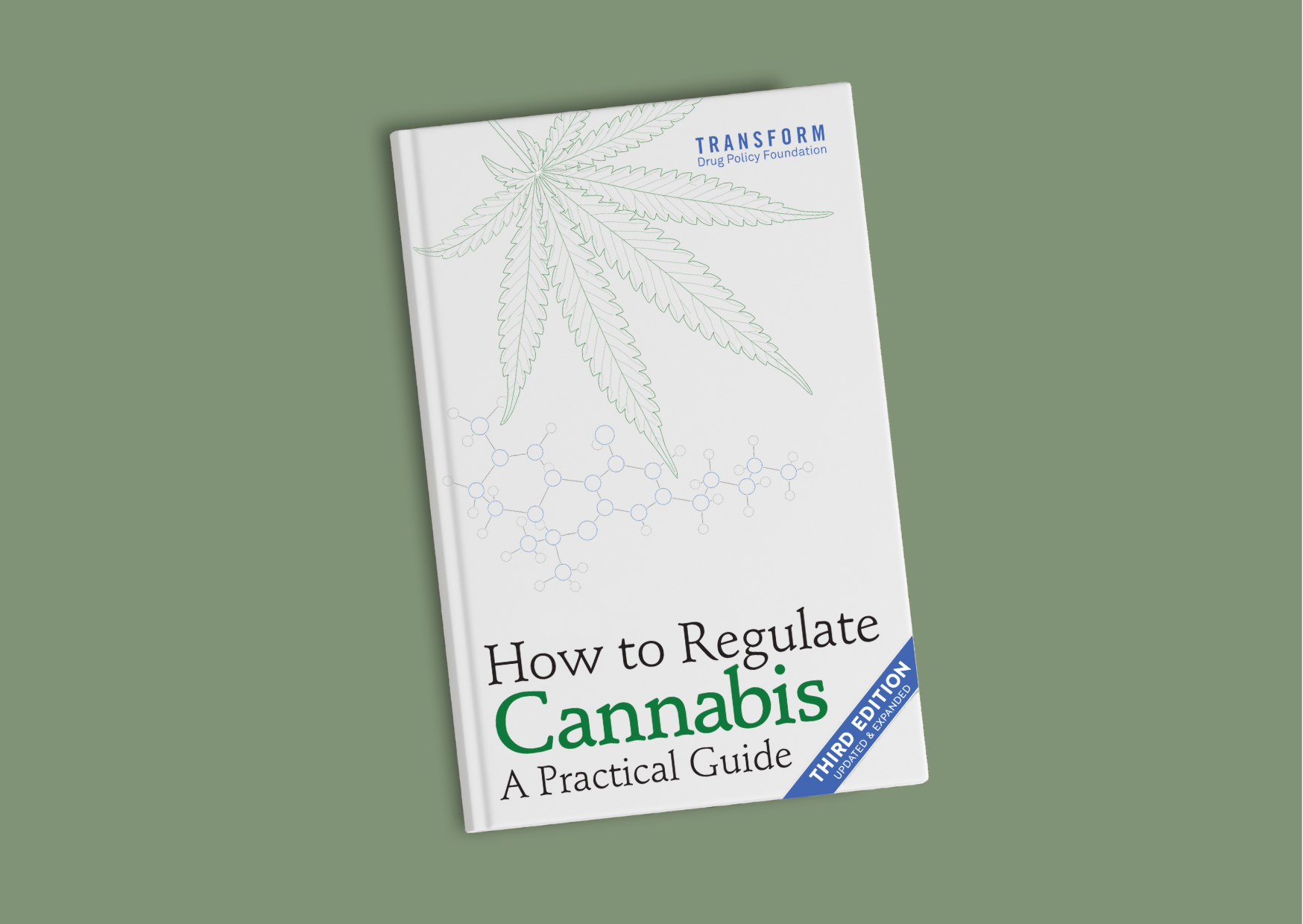 The reform movement: coalition building, asserting core principles and framing the debate
Kassandra Frederique, executive director of Drug Policy Alliance, who was instrumental in achieving what she described as the most "progressive cannabis law in the United States" told us that coalition building and framing the debate was absolutely key to achieving the reforms. Part of this, as she explains below, was driving a shift from cannabis policy reform being seen as a fringe issue to people recognising it as a foundational social justice issue:
"Oftentimes people cite the racial disparities around our arrests. But people miss the fact that in schools cannabis is the number one reason why someone is suspended or expelled, right? Or they miss the fact that cannabis is the number four reason why someone is deported, or they miss the fact that the suspicion of cannabis is one of the driving forces for neglect and family defence procedures. And so, there was this prevailing idea that getting in trouble for cannabis was a slap on the wrist and we had to concretise that this can actually change the discourse of your life. But the framing of it and really focusing.. on the impact and the enforcement really got people to have to deal with the fact that this is not like a vanity social justice issue, that this is one of the biggest social justice issues."
Chris Alexander, the Executive Director of New York State's Office of Cannabis Management, who was a central figure in the drawing up and passing of the Bill, also stressed the importance of building a broad movement advocating for change.
"Of course, you had the normal criminal justice reformers, your drug policy advocates, your harm reductionists, community groups, faith-based groups, but also your capitalist folks interested in making money and hoping to participate and what will be a really successful industry" he told us.
Crucial to the success and the clarity of the campaign was uniting behind a broad set of principles which became the foundation for the reforms and still guides the roll-out of the regulations and licensing arrangements.
"The first thing [was] recognising that before we move forward, before we legalise, before we end prohibition, we've got to make sure we're dealing with the consequences of the harm that's been caused. And so in our New York story, that meant clearing quite a bit of arrests and convictions that were made mostly in communities of colour across the state. The second one was a commitment that whatever we did moving forward, the industry that we built would be diverse and inclusive. And so there are several provisions throughout the legislation woven into the market architecture to ensure that there was space for people to come in and meaningfully participate. And the third and the final principle, which is really the kind of the hardest to keep whole, was the guarantee that whatever resources were created from legalisation were reinvested back into communities that have been most impacted."
Licensing for sale
Just before we arrived in New York in March this year Governor Kathy Hochul had signed a law allowing New York cannabis farmers to start planting recreational cannabis, and the Cannabis Control Board (CCB) had approved the first licenses to cultivate recreational cannabis, issuing 52 permits to local hemp farmers. Although, as previously mentioned, licenses to sell cannabis for non-medical use have not yet been issued, it has been announced that the first set of licenses will go to people with cannabis-related criminal records (this aligns with the second principle outlined by Chris Alexander).
However, the devil is in the detail. The licensing requirements were out for consultation at the time of our visit but there was frustration among some of the people we met that per the draft law, in order to apply for a license someone would have to demonstrate that they had had a business with two years of profit-making. This would prove impossible for the majority of people in the legacy market looking to move across into the legal market and we were told, perhaps with some hyperbole, that only six people in the whole of the state would qualify for the licenses if that requirement remained in place. When we asked what they would do in this event the response was that they'd continue to sell as they had always done – without a legal license to do so. I suspect this issue will be addressed as the will is undoubtedly there to do this right, but without access to the market for people historically affected by prohibition, the social and racial equity benefits of reforms would be seriously undermined. One of the aims of cannabis regulation is for the illegal, unregulated market to largely be replaced by the legal market, so this is an important, but complex, consideration when rolling out regulation.
After our time in New York, we went to Boston Massachusetts where we visited a licensed dispensary selling a range of cannabis products all of which were clearly labelled. It had a clinical but friendly atmosphere and the staff were clearly proud of, and knowledgeable about, the products on sale. There was a cannabis museum in the dispensary and the walls were covered with impressive stats outlining the proportion of women and people of colour at all levels in their company.
Even the "Peach Bellini" flavoured edible gummies we saw were sold in fairly bland and clinical packaging. In contrast, the branding for edible products we saw for sale in the legacy market in New York was much quirkier. Most were fun, novelty products like the "Reefer's" Peanut Butter Cups with branding mimicking the iconic Reece's cannabis-free equivalent. Novelty products but extremely potent ones. Each tiny "Reefer's" chocolate cup contained 500mg of THC compared to the edible gummies from the dispensary each of which had 5mg and there was only 150mg in the whole box. Transform has set out clear guidelines in terms of both packaging and limiting the use of advertising that we think are essential to ensuring that public health is ensured in cannabis regulation.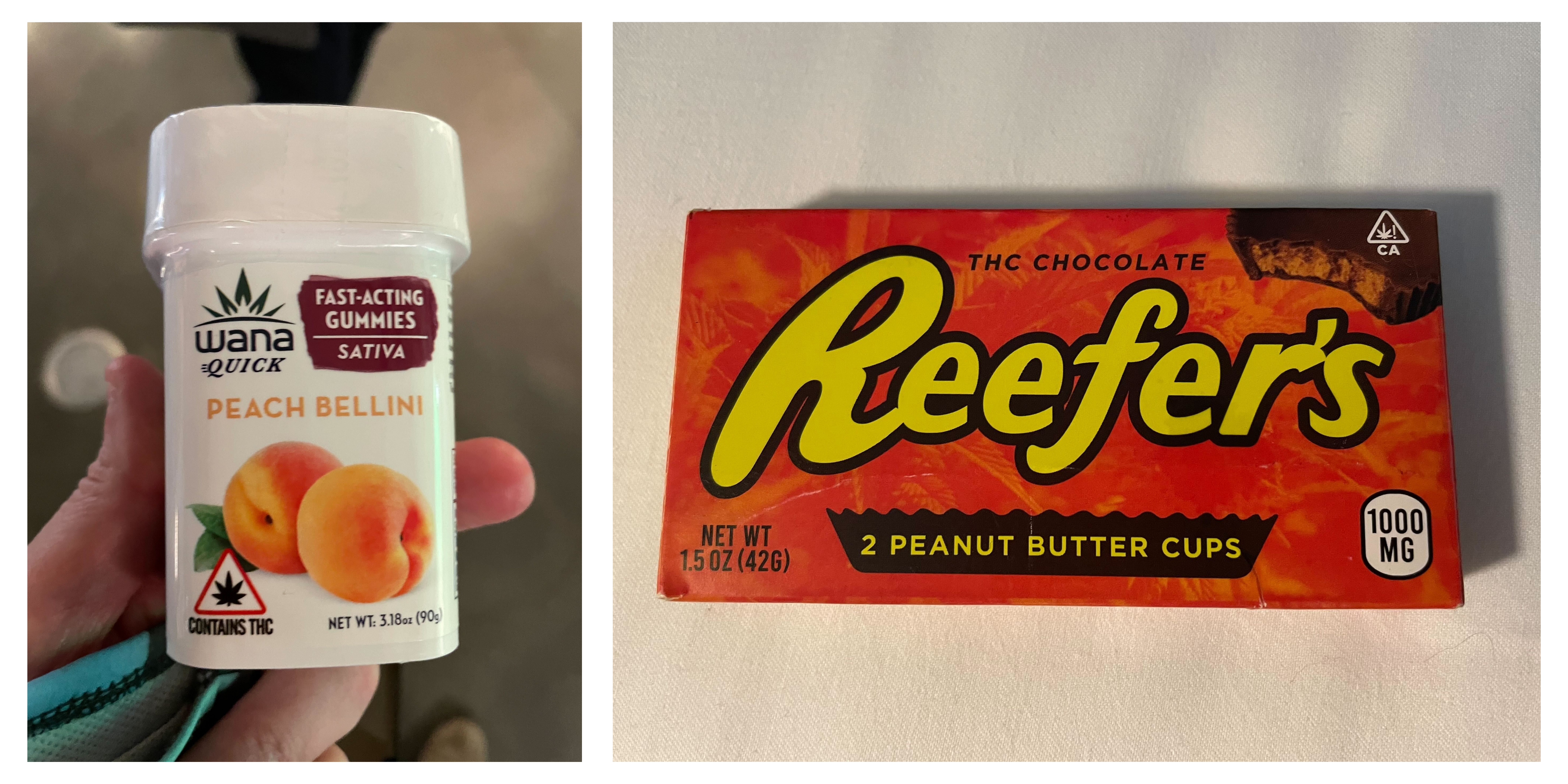 One significant issue which hasn't yet been resolved in either New York or Massachusetts, or indeed many of the places to have regulated cannabis for recreational use, is the issue of consumption. There are currently no designated places in either state where you can legally consume cannabis so people are left to do so in their own homes. This lack of provision of places to use cannabis is discriminatory to those who live in public housing since the use (and production and supply) of cannabis remains banned at a federal level, and so puts residents at risk of being evicted for their use.
Social equity
A big issue for anyone seeking to enter the legal cannabis industry anywhere in the US is that the federal cannabis ban makes it much harder to access finance. Since one significant route used by businesses is blocked - securing loans from banks – cannabis entrepreneurs are forced to rely on venture capital and investment from wealthy individuals. This, we were told by many Black and brown entrepreneurs in New York and Massachusetts, made it harder for anyone without personal connections in the appropriate areas to get a foot in the door. To overcome this hurdle, New York has established a $200 million fund to support social equity applicants seeking licenses which relates to the third principle outlined by Chris Alexander.
According to the fiscal 2023 spending plan released in January 2022, New York expects to generate more than $1.25 billion in cannabis tax revenue over the next six years. This revenue will be reinvested to promote social equity with 40% going to support public education, 20% to drug treatment and prevention programmes and the final 40% going to the Community Grants Reinvestment Fund.
Chris Alexander described this fund as being "dedicated to that first part [of the principles outlined]: repairing the harm. It's dedicated to job training services, re-entry programmes, continuing adult education programmes. It's making sure that folks have all the resources they need to be successful."
During our time in New York and Boston, the potential of cannabis law reform to not only put an end to harmful prohibition but also to actively repair harms and provide life-changing opportunities was evident.
A powerful example of this was the inspiring Devin Alexander who benefited from an equity programme in Massachusetts, similar to the one funded by the Community Grants Reinvestment Fund in New York. While he was still in high school, aged seventeen, he was dragged out of the back of his friend's car, humiliated by police and arrested for carrying just two or three grams of cannabis. This meant that his ambition at the time to join the military was no longer possible.
In 2019, with a keen interest in the social justice potential of the cannabis reforms in his state, he organised an expungement clinic with pro bono lawyers to help people through the process of removing non-violent cannabis crimes from their criminal records. [This process is complicated and could be prohibitive for some which is why New York went a step further than Massachusetts and made the expungement automatic.] Shortly after his setting up the clinic, Devin enrolled on the first cohort of the social equity programme which provides education and training for people affected by the prohibition of cannabis to equip them to take leadership roles in the regulated industry.
Delivery licenses in Massachusetts are set-aside exclusively for equity applicants and Devin secured a license and co-founded his company Rolling Relief. However, he identified problems with the initial delivery regulations which required licensees to deliver products sold by dispensaries, meaning that it wouldn't be a financially feasible business model. "What incentive did that retailer have to keep a delivery company around if they could deliver it," he explained to us. "So myself and a few other advocates formed the Massachusetts Cannabis Association for Delivery, which I currently serve as a Vice-President of. We met with the Cannabis Control Commission (CCC)... showed them our financial projections and… just how this license type was not going to be profitable. You know what, they listened to us."
The campaign was met with strong opposition from the Commonwealth Dispensary Association, made up of 70% of the retailers in Massachusetts, who filed a lawsuit against the CCC. The reaction from Devin and his fellow activists was to then partner with activists from across the country to name and shame the companies who were part of the lawsuit.
"They're posting on their social media accounts, Black Lives Matter, social justice for all, equality for all, but they're filing a lawsuit against mostly Black-owned businesses, and that's what really lit a fire under me" he explained. "So we listed every dispensary name that was part of this lawsuit. We listed them out so people can see who is part of that. You can't hide behind the association anymore. We're blessing you out, calling you out by your name. And so you start to see, you know, drop out one by one. So the lawsuit was announced on Wednesday, and we got it dropped by Sunday." The new license which allows delivery operators to go straight to growers is now in place and Rolling Relief became the first Black-owned, provisionally licensed delivery operator in the Commonwealth of Massachusetts. They work exclusively with black-led growers to ensure that people of colour are in leadership positions throughout the whole supply chain.
"The legalisation of cannabis really opened up the door for me to be a legitimate cannabis businessman. Nobody really cared what I had to say, really until I got into cannabis. No one was asking me what I thought. So cannabis really gave me a platform, an honest legal market, and I'm very grateful for everything the plant has done for me and everything that has done for the greater community."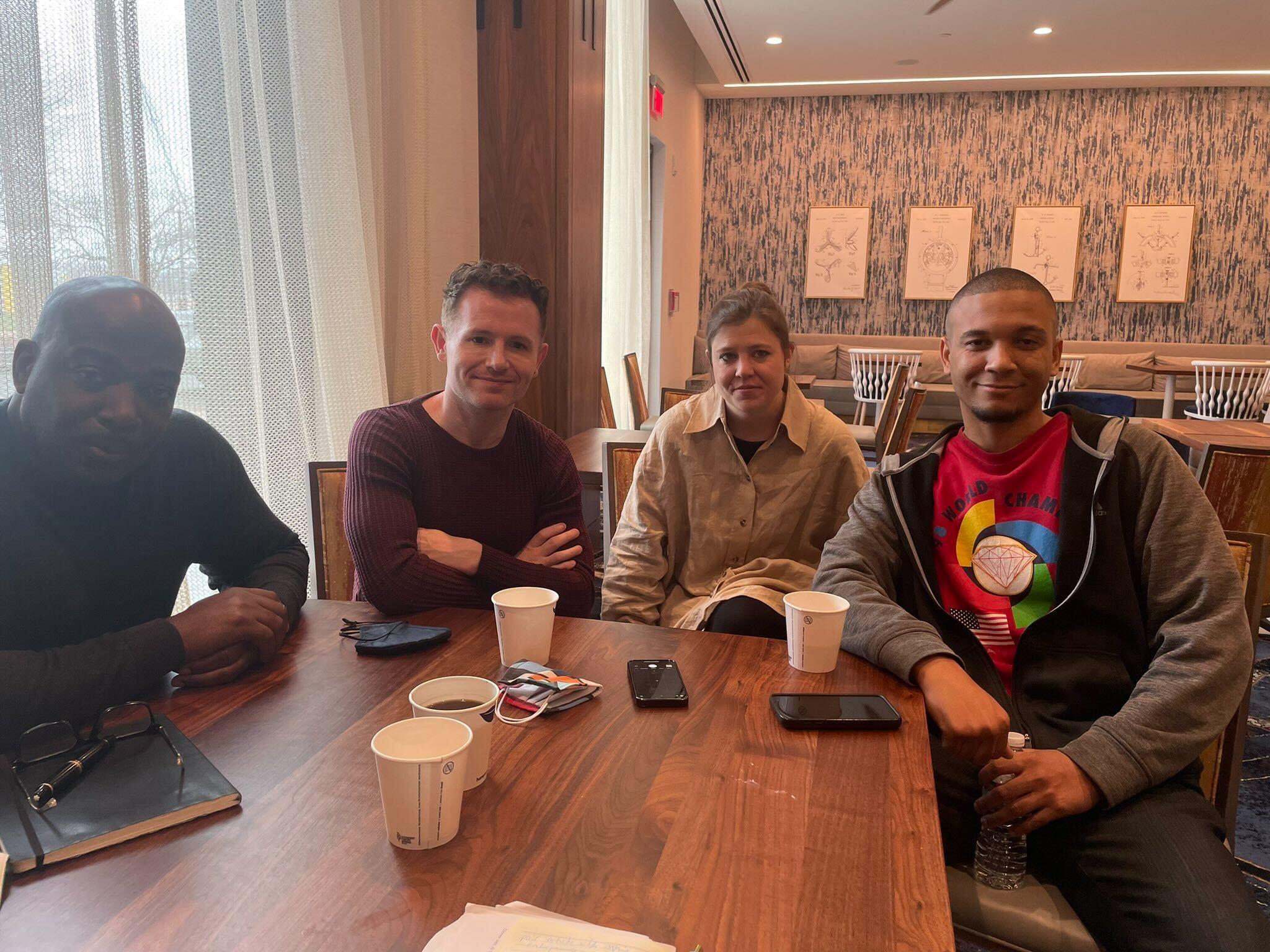 Devin was named New England's Young Entrepreneur of the Year in 2022.
It is paramount that principles of social justice and equity are woven into cannabis regulation. We look forward to seeing how New York's cannabis markets take shape once licenses have been rolled out.
Principles of social justice equity must be included in cannabis regulation. We are still a while away from knowing what New York's legal cannabis markets will look like, but with the state's focus on ensuring these principles are at the heart of New York's legal cannabis, we look forward to seeing where New York is at in a year's time. Other countries, including the UK, need to look on and learn from New York's path towards regulation as cannabis regulation comes to Europe.

The newly updated 3rd edition of 'How to Regulate Cannabis: A Practical Guide' is out now! You can purchase the hard copy for only £15 or access online for free.