It was welcome news that London Mayor Sadiq Khan has finally launched the long trailed commission to examine the effectiveness of the UK's drug legislation and policing in the city, with a particular focus on cannabis. The 'London drugs commission', will be chaired by Lord Charlie Falconer QC, a former Lord Chancellor and Justice Secretary.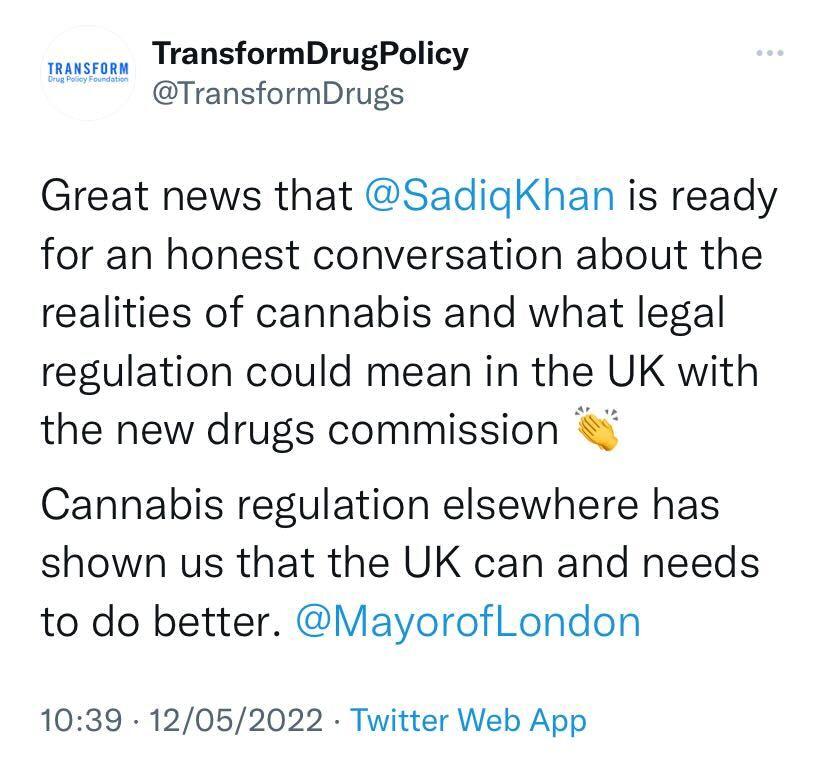 The mayor's office said a panel of independent experts in criminal justice, public health, politics, community relations and academia will be assembled to consider evidence from around the world on the outcomes of various drug policies. The mayor is currently in Los Angeles, with part of the trip including visits to cannabis grow facilities, dispensaries, and meeting with regulators and police.
The announcement comes as no surprise - being promised in his manifesto for the 2021 Mayoral election - which he won with a 55% majority. It follows on from the growing public support for cannabis reforms, particularly in the capital - where even in 2019, polling suggested a comfortable majority (63%) in favour of cannabis legalisation/regulation (compared to 47% across the UK). Advocacy for cannabis reforms has evidently crossed the threshold in the UK from political liability to political asset, particularly amongst the keenly targeted younger demographics.

But you might not guess this from the reactions to Khan's positioning on the issue from some political opponents. The announcement provoked a perhaps predictably snarky tweet from the Home Secretary, Priti Patel, pointing out that he has no power to change the law on cannabis.

Perhaps more surprising, was the hostility from his own party, with Shadow Home Secretary Yvette Cooper reiterating Priti Patel's point on mayoral powers - as gleefully reported by right-leaning political commentator Guido Fawkes. Fawkes has, in fact, been a long time advocate of legalisation, showing that no part of the political spectrum has a monopoly on the reform position, but also, sadly, that such a position need not get in the way of partisan attacks on fellow travellers.
The Home Secretary and her shadow are of course correct - Khan has no powers to change laws. But there is potentially much more to the commission than this.

Firstly, Khan does have real influence over how policing of drug offences is implemented in the city. He could, for example, advocate for and fund the implementation of a city-wide drug offence diversion program for people caught in possession of cannabis (or indeed any illegal drugs) for personal use. As this is an operational issue, he would need to bring the Metropolitan Police Commissioner on board, but it would be difficult for them to refuse, particularly given such diversion programmes are already in place in over 12 Police authorities across the country. They also were advocated in the recent Home Office commissioned Carol Black 'Review of drugs', and are specifically championed in the Government's new drug strategy. They involve people caught with small amounts of a drug for their own use being diverted away from the criminal justice system to drugs education, or other support as needed, avoiding the life-scarring impact of a criminal record in the process (see Transform's comprehensive resource page on diversion here).

Indeed a pilot cannabis diversion program is already in the pipeline for Lewisham, alongside a number of other diversion pilots in the capital. Reports of the Lewisham pilot caused a minor kerfuffle earlier this year, again with both Government and Labour party taking the opportunity to critique the Mayor, despite having both previously endorsed diversion. For all the progress we are witnessing - personal or partisan point scoring still seems to be prioritised over the development of more effective drug policies - with the current 'tough on drugs and crime' narrative arms race playing out between the Conservatives and Labour, being a particularly depressing and unhelpful manifestation. The pathetic sight of Labour attacks on the Lib Dems (for advocating decriminalisation, and that people caught in possession shouldn't go to prison) and both Labour and Conservative attacks on the Green Party during the recent council elections for being 'soft on drugs', shows how hopelessly behind the curve our main opposition party remains - let alone the Government.

But on the question of whether Khan can 'decriminalise cannabis' in London - it really depends on your definition. He can't change the law, but he can help change policing practice in the city to ensure people caught in possession don't get criminal records. From the public perspective it amounts to much the same - so maybe best viewed as a form of de facto decriminalisation, even if not the real deal that we would want to see in the future (which would be a no sanction model, include all drugs, and include expungement of past criminal records).
And while the Mayor has no power to change the law and formally legalise and regulate cannabis for non medical use, there is of course no reason that the commission can't recommend and make the case for such a change. This would be very useful for the public debate - forcing the Government to respond, and defend the obviously failing status quo with the same tired arguments that are convincing less and less people across the country. The more people discuss this issue - the greater support for reform grows.

Perhaps more interestingly, it's worth noting that the potential does exist for the Mayor to explore more bold moves within a decriminalisation model that could accelerate the transition towards non-criminal supply options. The commission could, for example, recommend the inclusion of small-scale home growing for personal use within the ambit of a de facto decriminalised cannabis policing model. There is plenty of precedent for this; in Spain for example - a series of court cases have established that home growing for personal use comes within the ambit of their decriminalisation approach. Some diversion programs in the UK, such as Durham, already take this approach, albeit rarely. Tolerating such home growing would mean cannabis users could avoid the risks of the illegal market altogether (although in all likelihood those caught growing would still have their plants confiscated).
In Spain, the case law has also established that a decriminalisation model can go further and allows not for profit collectives to communally grow and share cannabis amongst themselves - the cannabis social club model. Its success - in reducing the criminal trade, whilst avoiding the risks of an over-commercialised legal market - has led to it being incorporated into actual de jure legalisation reforms in Uruguay and Malta. It will be important for the commission to explore some of these noncommercial options as well; California is arguably not the best place for Khan to have started his research given the mess they have managed to get themselves into with their cannabis reforms…..

But the commission does at least appear to be in good hands. The appointment of a vocal reform advocate such as Falconer as its chair shows that the commission will have an unambiguous reform take - asking how reforms should be done, not revisiting tired arguments about whether or not they are needed. In Falconer's famous mea culpa he declared;
"I am sorry for supporting the war on drugs. I realise now it has been a tragic disaster that has inflicted harm on the poorest parts of Britain and abject misery on people in the most desperate corners of the planet."

Going on to argue that:

"So yes, I have changed my mind and I am now of the view the Labour Party cannot achieve its goals for disadvantaged individuals and poorer communities if prohibition remains in place. We need policies based on safety and health, not punishment. Numerous MPs on all sides now say the drug war has failed – but it would be more honest to say that it is we parliamentarians who have failed. We have individually and collectively failed to engage with the overwhelming evidence of catastrophic policy failure. So where do we go from here?
The Labour party should call for an end to the drug war and commit to the legal regulation of drug production and supply in its next manifesto."

Let's hope his fellow politicians listen this time.

Header image source: BBC | London Drugs Commission to look at legalising cannabis
The newly updated 3rd edition of 'How to Regulate Cannabis: A Practical Guide' is out now! You can purchase the hard copy for only £15 or access online for free.